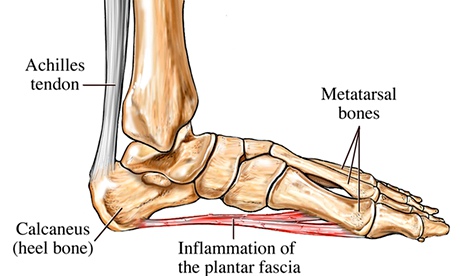 Overview
Plantar fasciitis is the most common cause of pain on the bottom of the heel. Approximately 2 million patients are treated for this condition every year. Plantar fasciitis occurs when the strong band of tissue that supports the arch of your foot becomes irritated and inflamed. The plantar fascia is a long, thin ligament that lies directly beneath the skin on the bottom of your foot. It connects the heel to the front of your foot, and supports the arch of your foot.
Causes
Plantar fasciitis can be confused with a condition called tarsal tunnel syndrome. In tarsal tunnel syndrome, an important nerve in the foot, the tibial nerve, is trapped and pinched as it passes through the tarsal tunnel, a condition analogous to carpal tunnel syndrome in the wrist. This may cause symptoms similar to the pain of a plantar fasciitis. There are also other less common problems such as nerve entrapments, stress fractures, and fat pad necrosis, all of which can cause foot pain. Finally, several rheumatologic conditions can cause heel pain. These syndromes such as Reiter's syndrome and ankylosing spondylitis can cause heel pain similar to plantar fasciitis. If your symptoms are not typical for plantar fasciitis, or if your symptoms do not resolve with treatment, your doctor will consider these possible diagnoses.
Symptoms
Patients experience intense sharp pain with the first few steps in the morning or following long periods of having no weight on the foot. The pain can also be aggravated by prolonged standing or sitting. The pain is usually experienced on the plantar surface of the foot at the anterior aspect of the heel where the plantar fascia ligament inserts into the calcaneus. It may radiate proximally in severe cases. Some patients may limp or prefer to walk on their toes. Alternative causes of heel pain include fat pad atrophy, plantar warts and foreign body.
Diagnosis
Your doctor may look at your feet and watch the way you stand, walk and exercise. He can also ask you questions about your health history, including illnesses and injuries that you had in your past. The symptoms you have such as the pain location or when does your foot hurts most. Your activity routine such as your job, exercise habits and physical activities preformed. Your doctor may decide to use an X-ray of your foot to detect bones problems. MRI or ultrasound can also be used as further investigation of the foot condition.
Non Surgical Treatment
A doctor may prescribe anti-inflammatory medication such as ibuprofen to help reduce pain and inflammation. Electrotherapy such as ultrasound or laser may also help with symptoms. An X-ray may be taken to see if there is any bone growth or calcification, known as a heel spur but this is not necessarily a cause of pain. Deep tissue sports massage techniques can reduce the tension in and stretch the plantar fascia and the calf muscles. Extracorporeal shock wave therapy has been known to be successful and a corticosteroid injection is also an option.
Surgical Treatment
In cases that do not respond to any conservative treatment, surgical release of the plantar fascia may be considered. Plantar fasciotomy may be performed using open, endoscopic or radiofrequency lesioning techniques. Overall, the success rate of surgical release is 70 to 90 percent in patients with plantar fasciitis. Potential risk factors include flattening of the longitudinal arch and heel hypoesthesia as well as the potential complications associated with rupture of the plantar fascia and complications related to anesthesia.
Prevention
While there are no sure ways to prevent plantar fasciitis, these prevention tips may be helpful. Keep your weight under reasonable control. Wear comfortable, supportive shoes. Use care when starting or intensifying exercise programmes.